Xmas Cup 2017 › Results › 500 km › 1.1.2018
Day 1 Day 2 Day 3 Day 4 Overall Results New Year 500 km
Racing Task | Final Results | Maximum Points: 876 | Day Factor = 1.0000
| | | | | | | | | | | |
| --- | --- | --- | --- | --- | --- | --- | --- | --- | --- | --- |
| # | | PILOT | CN | RN | PLANE | DISTANCE | TIME | SPEED | PEN | POINTS |
| 1 | | Martin Dvorak | CCC | OK-9252 | ASG29 | 501.76 km | 02:41:20 | 186.6 km/h | 0 | 876 |
| 2 | | Jan Michalek | Y77 | JERRY | ASG29 | 501.76 km | 02:42:56 | 184.8 km/h | 0 | 867 |
| 3 | | Bart Leysen | B9 | BL-EU27 | ASG29 | 501.76 km | 02:44:01 | 183.6 km/h | 1 | 859 |
| 4 | | Alex Holswilder | V3 | G-NOOB | ASG29 | 501.76 km | 02:45:58 | 181.4 km/h | 0 | 849 |
| 5 | | Mihaly Knausz | KMI | HA-5005 | ASG29 | 501.76 km | 02:46:47 | 180.5 km/h | 0 | 844 |
| 6 | | Jon Holland | 123 | G-RUSH | ASG29 | 501.76 km | 02:48:05 | 179.1 km/h | 0 | 837 |
| 7 | | Radek Mica | RUM | OK-5417 | LS10 | 501.76 km | 02:50:21 | 176.7 km/h | 0 | 825 |
| 8 | | Radek Pilar | RP9 | OK-7412 | Ventus2cx | 501.76 km | 02:51:12 | 175.9 km/h | 0 | 820 |
| 9 | | Jarmo Karjalainen | JKK | OH-HML | ASG29 | 501.76 km | 02:51:03 | 176 km/h | 6 | 815 |
| 10 | | Tom Holloran | TWH | N220TH | ASG29 | 501.76 km | 02:52:13 | 174.8 km/h | 0 | 815 |
| 11 | | Stefan Beach | SCR | SB-1961 | ASG29 | 501.8 km | 02:53:12 | 173.8 km/h | 0 | 810 |
| 12 | | Uwe Melzer | UWE | FUNFLY | ASG29 | 501.76 km | 02:53:12 | 173.8 km/h | 0 | 810 |
| 13 | | Petr Plinta | 7T | OK-0357 | LS10 | 501.76 km | 02:53:16 | 173.7 km/h | 0 | 809 |
| 14 | | Aleksey Chernov | AV7 | AIRMAN | ASG29 | 501.8 km | 02:53:38 | 173.4 km/h | 4 | 804 |
| 15 | | T Broty | TB | OK-0516 | Ventus2cx | 501.76 km | 02:57:19 | 169.8 km/h | 0 | 789 |
| 16 | | Lubos Faitz | LFM | OK-4812 | Ventus2cx | 501.8 km | 03:01:21 | 166 km/h | 12 | 758 |
| 17 | | Eman Sadik | EMA | OK-1940 | ASG29 | 501.76 km | 03:04:42 | 163 km/h | 0 | 754 |
| 18 | | jiri holub | JHO | OK-4408 | Ventus2cx | 501.76 km | 03:10:40 | 157.9 km/h | 0 | 727 |
| 19 | | Pj S | PJS | PH-PJS | ASG29 | 501.76 km | 03:09:05 | 159.2 km/h | 20 | 714 |
| 20 | | Burkhard Fries | BFF | D-1968 | Ventus2cx | 501.76 km | 03:15:15 | 154.2 km/h | 1 | 707 |
| 21 | | Hans Nyc | JN | OK-6200 | ASG29 | 501.76 km | 03:18:31 | 151.6 km/h | 0 | 695 |
| 22 | | Janos Lenarth | LJJ | 5B-4511 | LS10 | 501.8 km | 03:18:42 | 151.5 km/h | 0 | 695 |
| 23 | | Norbert Karolyi | NK1 | OM-1966 | ASG29 | 501.76 km | 03:19:20 | 151 km/h | 2 | 690 |
| 24 | | Stefan Selker | D75 | D-1905 | Ventus2cx | 501.76 km | 03:19:52 | 150.6 km/h | 0 | 690 |
| 25 | | Jan Podolan | A22 | ANDEL | LS10 | 501.76 km | 03:22:07 | 148.9 km/h | 10 | 671 |
| 26 | | Jaroslav VAlouch | JV1 | OK-1279 | LS10 | 501.8 km | 03:25:41 | 146.4 km/h | 0 | 668 |
| 27 | | Miomir Ivanovic | MIO | 4O-001 | ASG29 | 501.76 km | 03:42:21 | 135.4 km/h | 0 | 611 |
| 28 | | Honza Matejcek | JAN | OK-2722 | LS8s | 302.4 km | | | 0 | 352 |
| 29 | | Milos Kubicek | UP | OK-4808 | LS8s | 299.45 km | | | 0 | 348 |
| 30 | | Michal Ondracek | R3 | OK-1123 | Discus2c | 68 km | | | 0 | 79 |
| 31 | | Frank Schwerdtfeger | O9 | D-9810 | ASG29 | 500.3 km | | | 0 | 0 |
| 32 | | Dmitry Andreyev | D2A | - | ASG29 | 388.58 km | | | 224 | 0 |
| 33 | | Miodrag Ivanovic | IDM | YU-1039 | ASG29 | 367.8 km | | | 0 | 0 |
| 34 | | Zdena Zazova | BZZ | OK-3710 | LS10 | 313.8 km | | | 1 | 0 |
| 35 | | caz yokoyama | M | N562BL | Ventus2cx | 284.6 km | | | 8 | 0 |
| 36 | | Ibsen IBSEN | VB | OM-0922 | LS10 | 278.6 km | | | 14 | 0 |
| 37 | | Marcus Neumann | MN1 | D-3702 | Ventus2cx | 252.1 km | | | 0 | 0 |
| 38 | | Alan Langlands | HMB | G-CHMB | ASG29 | 176.9 km | | | 0 | 0 |
| 39 | | Peter Sanitra | MV | 2244 | ASG29 | 170.7 km | | | 0 | 0 |
| 40 | | Juliett Oscar | JO | FLOAT | ASG29 | 161.5 km | | | 0 | 0 |
| 41 | | leonardo soares | LSL | LEO306 | ASG29 | 126.4 km | | | 1 | 0 |
| 42 | | OVIDIU FEDER | ERA | YR-9ERA | ASG29 | 116.1 km | | | 0 | 0 |
| 43 | | Petr Filip | P82 | OK-1982 | Ventus2cx | 100.5 km | | | 10 | 0 |
| 44 | | Mike Alpha | 69 | HB-4896 | Ventus2cx | 74.9 km | | | 0 | 0 |
| 45 | | Jiri Adam | ADX | OK-0024 | ASG29 | 64.1 km | | | 0 | 0 |
| 46 | | Jaro Pincek | H7 | OM-1155 | ASG29 | 61.7 km | | | 15 | 0 |
| 47 | | Steve Butler | SB1 | EU-HIGH | Ventus2cx | 38.7 km | | | 0 | 0 |
| 48 | | Mikko Nurminen | MX | OH-900 | ASG29 | 20 km | | | 0 | 0 |
| 49 | | Ludwig Smith | SMI | D-0815 | Discus2c | 7.8 km | | | 0 | 0 |

Download IGC files (all pilots in one ZIP file) | Detailed results (mCR, mIAS, Detour%...)
Briefing › 500 km › 1.1.2018 › 19:00 CET › Monday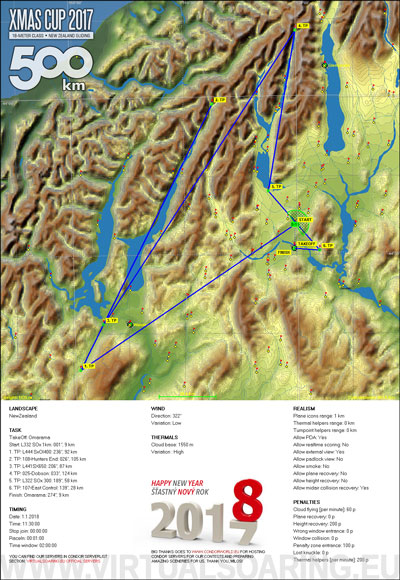 Server:Xmas Cup 2017
Date:01. 01. 2018
Time server A/B:19:00 CET (18:00 UTC)
Time server C:20:00 CET (19:00 UTC)
Time server D:21:00 CET (20:00 UTC)
Join time:30 min.
---
Landscape:NewZealand [0.8]
Plane class:18-meter Class
Task type:Racing Task
Race-in time:1 min.
Time window:120 min.
Start time:11:30:00
Condor date:01. 01. 2018
Start altitude:max. 1500 m QNH
Wind direction:322 °
---
TakeOff:Omarama
Start:L332 SOx 1km
1. TP:L444 SxOl400
2. TP:108-Hunters End
3. TP:L441SX650
4. TP:025-Dobson
5. TP:L322 SOx 300
6. TP:107-East Control
Finish:Omarama
Distance:502 km
---
Cloudflying not allowed! Circeling in the direction of climb is determined by the first glider in thermal. If you have doubts about the circeling direction, ask in the chat. Please FLY SAFE, good luck to all pilots.
---

Download Flightplan (FPL file)
---