Xmas Cup 2017 › Results › Day 2 › 28.12.2017
Day 1 Day 2 Day 3 Day 4 Overall Results New Year 500 km
Racing Task | Final Results | Maximum Points: 620 | Day Factor = 1.0000
| | | | | | | | | | | |
| --- | --- | --- | --- | --- | --- | --- | --- | --- | --- | --- |
| # | | PILOT | CN | RN | PLANE | DISTANCE | TIME | SPEED | PEN | POINTS |
| 1 | | Jan Michalek | Y77 | JERRY | ASG29 | 305.75 km | 02:02:59 | 149.1 km/h | 0 | 620 |
| 2 | | Arne-Martin Guettler | AXM | LN-GOD | LS10 | 305.75 km | 02:03:18 | 148.8 km/h | 0 | 618 |
| 3 | | Frank Schwerdtfeger | O9 | D-9810 | ASG29 | 305.75 km | 02:03:32 | 148.5 km/h | 0 | 616 |
| 4 | | Tomasz Siejek | GD5 | SP-0055 | Ventus2cx | 305.75 km | 02:03:36 | 148.4 km/h | 0 | 616 |
| 5 | | Bart Leysen | B9 | BL-EU27 | ASG29 | 305.75 km | 02:03:42 | 148.3 km/h | 0 | 615 |
| 6 | | Uwe Melzer | UWE | FUNFLY | ASG29 | 305.75 km | 02:04:22 | 147.5 km/h | 4 | 607 |
| 7 | | Jon Holland | 123 | G-RUSH | ASG29 | 305.75 km | 02:05:12 | 146.5 km/h | 0 | 605 |
| 8 | | Helmut Kuenne | F9 | D-2318 | ASG29 | 305.75 km | 02:05:03 | 146.7 km/h | 4 | 602 |
| 9 | | Jarmo Karjalainen | JKK | OH-HML | ASG29 | 305.75 km | 02:05:41 | 145.9 km/h | 0 | 602 |
| 10 | | Mikko Nurminen | MX | OH-900 | ASG29 | 305.75 km | 02:05:39 | 146 km/h | 6 | 596 |
| 11 | | Radek Pilar | RP9 | OK-7412 | Ventus2cx | 305.75 km | 02:08:35 | 142.7 km/h | 1 | 583 |
| 12 | | Hans Nyc | JN | OK-6200 | ASG29 | 305.75 km | 02:10:57 | 140.1 km/h | 0 | 569 |
| 13 | | Jan Oorthuijsen | WW | PH-722 | ASG29 | 305.75 km | 02:11:02 | 140 km/h | 0 | 569 |
| 14 | | Martin Baran | MOV | OK-7103 | LS10 | 305.75 km | 02:13:10 | 137.8 km/h | 4 | 552 |
| 15 | | Martin Grmela | MG | OK-1405 | Ventus2cx | 305.75 km | 02:14:09 | 136.7 km/h | 0 | 550 |
| 16 | | Jaro Pincek | H7 | OM-1155 | LS8s | 305.75 km | 02:20:26 | 130.6 km/h | 5 | 550 |
| 17 | | Radek Mica | RUM | OK-5417 | LS10 | 305.75 km | 02:14:35 | 136.3 km/h | 0 | 548 |
| 18 | | Pj S | PJS | PH-PJS | ASG29 | 305.75 km | 02:18:17 | 132.6 km/h | 0 | 528 |
| 19 | | Peter Sanitra | MV | 2244 | ASG29 | 305.75 km | 02:18:44 | 132.2 km/h | 0 | 525 |
| 20 | | Alexander Novikov | AVN | UR-BNJA | ASG29 | 305.75 km | 02:18:47 | 132.2 km/h | 0 | 525 |
| 21 | | Egon Jorgensen | X5 | OY-XKP | ASG29 | 305.75 km | 02:17:23 | 133.5 km/h | 14 | 518 |
| 22 | | Jan Podolan | A22 | ANDEL | ASG29 | 305.75 km | 02:20:34 | 130.5 km/h | 0 | 516 |
| 23 | | Wlodzimierz Kowalski | DB9 | SP-2964 | ASG29 | 305.75 km | 02:24:12 | 127.2 km/h | 0 | 497 |
| 24 | | Miro Kucera | MK7 | OM-2507 | ASG29 | 305.75 km | 02:23:13 | 128.1 km/h | 6 | 496 |
| 25 | | Eman Sadik | EMA | OK-1940 | ASG29 | 305.75 km | 02:26:00 | 125.6 km/h | 0 | 488 |
| 26 | | Milos Kubicek | UP | OK-4808 | Discus2c | 305.75 km | 02:35:59 | 117.6 km/h | 0 | 478 |
| 27 | | Miomir Ivanovic | MIO | 4O-001 | ASG29 | 305.75 km | 02:30:40 | 121.7 km/h | 0 | 466 |
| 28 | | Lubos Faitz | LFM | OK-4812 | Ventus2cx | 305.75 km | 02:32:18 | 120.4 km/h | 0 | 459 |
| 29 | | Rudolf Kalousek | R1K | OK-7777 | Ventus2cx | 305.75 km | 02:33:47 | 119.3 km/h | 0 | 453 |
| 30 | | Michal Szalek | 4MS | SP7470 | ASG29 | 305.75 km | 02:46:08 | 110.4 km/h | 0 | 403 |
| 31 | | Zenon Lemonidas | LEM | LEM | Ventus2cx | 305.75 km | 02:59:54 | 102 km/h | 14 | 342 |
| 32 | | Peter Kunik | PK7 | OM-NIUS | LS10 | 305.75 km | 03:16:15 | 93.5 km/h | 0 | 341 |
| 33 | | Burkhard Fries | BFF | D-1968 | Ventus2cx | 262.24 km | | | 3 | 275 |
| 34 | | Ibsen Ibsen | VB | OM-0922 | ASG29 | 185.9 km | | | 0 | 197 |
| 35 | | Jiri Holub | JHO | OK-4408 | Ventus2cx | 174.91 km | | | 0 | 186 |
| 36 | | Russel Marais | K7 | ZS-RUSS | Discus2c | 143.62 km | | | 0 | 160 |
| 37 | | Zdena Zazova | BZZ | OK-3710 | LS10 | 32.27 km | | | 0 | 34 |
| 38 | | Martin Madle | HC | OK-0217 | Discus2c | 166.1 km | | | 28 | 0 |
| 39 | | Ladislav Prusek | LP1 | OK-120 | Ventus2cx | 287.3 km | | | 0 | 0 |
| 40 | | Juliett Oscar | JO | FLOAT | ASG29 | 260.9 km | | | 0 | 0 |
| 41 | | Erwin deBruin | EDB | PH-1969 | ASG29 | 256.1 km | | | 0 | 0 |
| 42 | | Stefan Selker | D75 | D-1905 | Ventus2cx | 152.2 km | | | 0 | 0 |
| 43 | | Miodrag Ivanovic | IDM | YU-1039 | ASG29 | 94.3 km | | | 0 | 0 |
| 44 | | Leszek Tomasik | LTO | SP-2188 | Ventus2cx | 25.4 km | | | 0 | 0 |
| 45 | | Norbert Karolyi | NK1 | OM-1966 | ASG29 | 22.3 km | | | 0 | 0 |
| 46 | | Marcus Neumann | MN1 | D-3702 | Ventus2cx | 1.2 km | | | 0 | 0 |

Download IGC files (all pilots in one ZIP file) | Detailed results (mCR, mIAS, Detour%...)
Briefing › Day 2 › 28.12.2017 › 20:00 CET › Thursday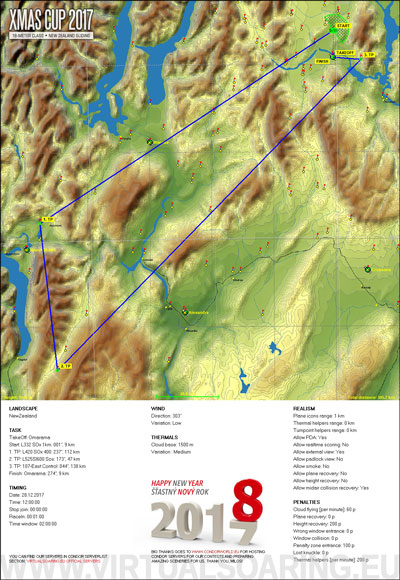 Server:Xmas Cup 2017
Password:
Date:28. 12. 2017
Time:20:00 CET (19:00 UTC)
Join time:30 min.
---
Landscape:NewZealand [0.8]
Plane class:18-meter Class
Task type:Racing Task
Race-in time:1 min.
Time window:120 min.
Start time:12:00:00
Condor date:28. 12. 2017
Start altitude:max. 1500 m QNH
Wind direction:303 °
---
TakeOff:Omarama
Start:L332 SOx 1km
1. TP:L420 SOx 400
2. TP:L525Sl600 Sos
3. TP:107-East Control
Finish:Omarama
Distance:306 km
---
Cloudflying not allowed! Circeling in the direction of climb is determined by the first glider in thermal. If you have doubts about the circeling direction, ask in the chat. Please FLY SAFE, good luck to all pilots.
---

Download Flightplan (FPL file)
---